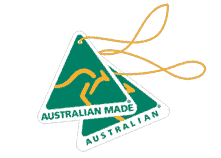 Suitable for cleaning your whole washroom including ceramic and stainless steel surfaces
We have a range of powerful all-purpose toilet, bathroom cleaning products and shower cleaners that attack soap scum and mildew without the need for heavy scrubbing leaving your washroom shiny and clean. Our range of toilet, bathroom and shower cleaners come in concentrated form with considerable capacity for dilution, to guarantee performance and save on cost.
AGAR cleaning systems commitment to using the safest raw materials as well as avoidance of using any toxic substance which are known to be life threatening or permanently damaging to the environment, makes it one of the most environmentally friendly chemical concentrates that can be used in the washroom all round.
Our toilet, bathroom and shower cleaning chemicals can be used in cleaning
Urinals and toilet bowls.

Showers

Shower screens

Baths, Basins, Toilet fittings

Ceramic tiles

Ceramic, Porcelain and stainless steel surfaces. It is NOT SAFE for use on marble, limestone or terrazzo
Chemicals in our GECA (Good environmental Choice Australia) certified range have
No toxic, carcinogenic or bio accumulative ingredients

Hypo allergenic, minimising the possibility of allergic reaction in sensitive individuals

High Biodegradability

Uses plant derived, renewable source ingredients where practical.

Low VOC content

Rips through soap scum, hard surface scale and bio waste

Comes in recyclable containers
Did you know we provide the following Services?
Toilet & Bathroom Cleaners Products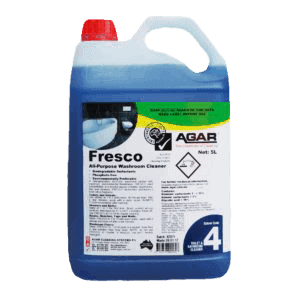 What is Fresco?
FRESCO is an all in one washroom cleaner for showers, toilets and ceramic tiles. It has been specially formulated to be environmentally preferable.
Environmental Care
FRESCO is a new-generation cleaning liquid formulated for maximum effectiveness with an absolute minimum impact on the environment. Consider the following features :
BIODEGRADABLE – Rapidly breaks down into friendly by-products.

FRESCO is made from renewable and regrowable surfactants. Detergents are derived from coconut oil, acids from citrus fruit and malt products and lime oil from citrus fruit. Lime oil endows FRESCO with an excellent natural solvent and a refreshing perfume.

ORGANIC ACID INGREDIENTS – FRESCO contains a mild food acid with no irritating fumes, low in corrosiveness and low in toxicity. Cleaners will want to use this cleanser.

NO toxic, harmful or ecologically-suspect ingredients: no ammonia, glycol ethers, nonyl phenol ethoxylates, caustics, corrosives, chlorine, heavy metal sequestering agents or phthalates.
SEQUAL
SEQUAL is a powerful cleaner for toilets and urinals. It is a thickened product that clings to vertical surfaces. SEQUAL has been specially formulated to be environmentally preferable.
Environmental Care
SEQUAL has been made from ingredients that have been chosen to give the following properties:
Highly biodegradable surfactants
pH mildly acidic
Phosphate-free
Non-flammable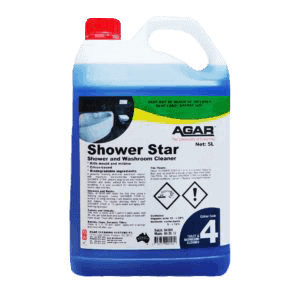 What is Shower Star?
Shower Star is a concentrated bathroom cleaner with naturally occurring mildew and mould killers in the formula.
Environment
Shower Star provides excellent cleaning power along with fantastic environmental credentials, including biodegradable, all natural & renewable ingredients, organic acid ingredients and no phosphates or chlorine.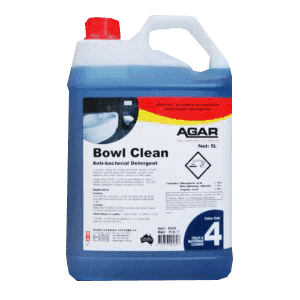 What is Bowl Clean?
A powerful cleaner for toilets and urinals, BOWL CLEAN removes water-marks and stains from porcelain, ceramic and stainless steel sinks, basins, urinals and toilet bowls.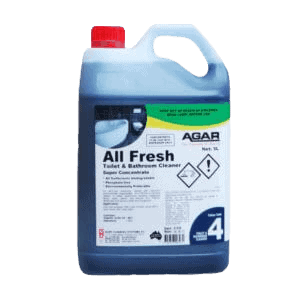 What is All Fresh?
ALL FRESH is an all-in-one washroom cleaner concentrate with maximum environmental friendliness. ALL FRESH is a forceful cleaner of toilets, washrooms, showers, washroom floors, walls, basins and fixtures. It will deodorise and leave a fresh lime fragrance. ALL FRESH is ideal for use in chemical dispensing systems.
Drop us a line to find out more about our
Toilet & Bathroom Cleaners