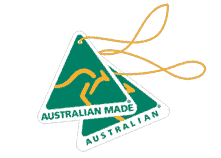 Vapor Q: Ultra Efficient Disinfectant for
ULV Cold Fogging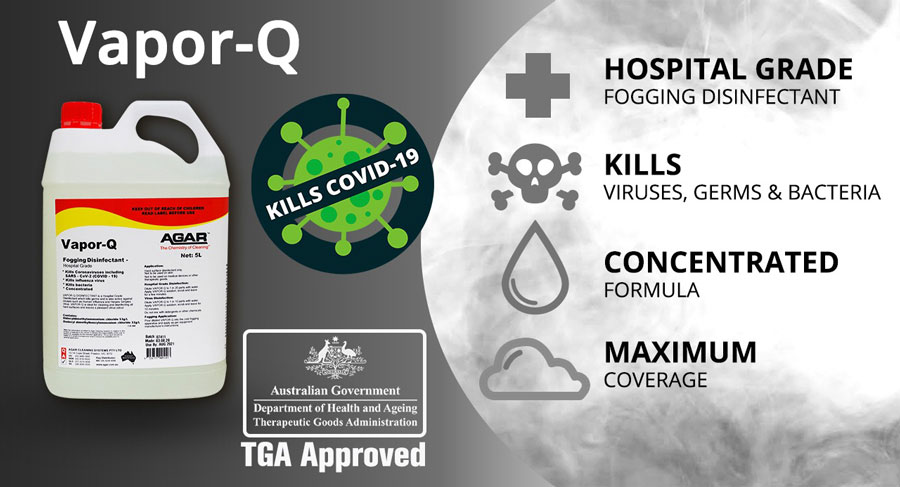 Vapor Q was developed by Agar Chemicals, Australia as a safe choice for high efficiency ULV (Ultra Low Volume) Cold Fogging, and is micro biologically tested and proven to kill SARS-COV-2 virus (Covid-19).
For businesses conducting disinfection by Cold Fogging, Vapor Q offers the most responsible and cost-effective solution for providing the finest care for their customers.
High-Efficiency Disinfection with Low Risk
Using a ULV Cold Fogging Machine, Vapor Q kills pathogens effectively with only 8ml of solution per cubic meter of air, maximizing coverage on less.
In just 10 minutes, Vapor Q gives a full disinfection from disease causing micro organisms killing most germs and bacteria; including E-Coli, Salmonella & SARS-COV-2 virus (Covid-19).
Vapor Q is a TGA Approved Hospital Grade Disinfectant
TGA tested to contain environmentally safe premium surfactants, it is proven to be highly-effective with light use even on heavily soiled surfaces. Vapor Q has a mostly neutral PH (7.5 on average) and is non-corrosive, reducing the risk of property damage and prolonging the lifetime of your Cold Fogging Machine and equipment. Containing less than 3% of VOCs (Volatile Organic Compounds) and a pleasant citrus fragrance, Vapor Q does not cause poor indoor air quality after use. Therefore, improving customer satisfaction. Check out the TGA Certificates below for Vapor-Q;

Vapor Q for Best Use
Vapor Q comes in concentrated form, and is confirmed to be highly non-hazardous once diluted with 15 parts of water. An excellent hospital grade disinfectant with dilution at 1:20 ratio, it is prescribed for safe use on any hard surfaces with no staining, due to its colorless chemical constitution.
The concentrated form of Vapor Q solution also gives great economy to cold fogging disinfection practices, allowing substantial savings in the long run. Storing Vapor Q can be done with peace of mind; it is tested to be non-flammable in all circumstances. Furthermore, when stocked in closed bottles in a cool area, pre-diluted Vapor Q can be stored for later use for up to 5 days without losing potency.
Briskleen Chemicals will also accept used Vapor Q cans for recycling, helping your business stay green and waste free.
What you shouldn't do (**Important**)

The user must refrain from contaminating Vapor Q with any other detergent or disinfectant. It is not recommended for use on soft surfaces, skin, or sensitive appliances, and must not be heated for optimum safety. Vapor Q is offered with pronounced precision and care, offering extensive details to stay protected during handling and use of the product; however, contacting local authorities for further guidelines on cold-fogging is advised.
Vapor Q Comes with TGA Guarantee
The Therapeutic Goods Administration (TGA) of Australia, vets therapeutic goods by implementing detailed assessments of each product claim. With regular, on-going monitoring of product quality and safety standards, the TGA carries out pathogen specific microbiological tests to confirm a product's potency against each claim.
Vapor Q has been examined and proven by the TGA, to be lethal against the Herpes Simplex Virus, Flu Virus, and SARS-COV-2 virus (Covid-19) at 1:10 dilution; Vapor Q is the best option for fighting Corona virus with Cold Fogging.
Conforming to all statutory environmental requirements, Vapor Q is safe and non-toxic for long-term use.
Vapor Q provides the safest and most efficient solution for staying safe from disease in 2020, a time calling for balanced and informed decision making.
Related Documents (click to open);
Drop us a line to find out more about
Vapor-Q