Maintaining top levels of hygiene in commercial food preparation spaces with intense schedules and long working hours requires expert attention. Busy kitchens such as caterer kitchens, restaurants, bars, hotels, and specially ghost kitchens, have only a limited time to focus on hygiene in-between fulfilling food orders that keep flooding in. Our Kitchen Cleaning Chemicals are made with that in mind.
Kitchen Cleaning Chemicals must clean quickly and effectively, be affordable, Kill Germs, remove grease & grime easily, must be non-toxic and safe on expensive surfaces
Food Service businesses are equipped with expensive work tops and tools, that are constantly coming into contact with materials which are perfect breeding grounds for dangerous bacteria. Meat fluids, food waste, and other debris are just a bad salmonella outbreak waiting to happen.
As a responsible food business owner, hygiene is a top priority; but so is saving time on cleaning, and using cost-effective products to do so. It's equally essential that your choice of commercial cleaning supplies are non-corrosive and safe to use on expensive professional kitchen assets; all while being food safe.
So, the most effective cleaning products for commercial kitchen spaces must check out some important criteria!
Kitchen Cleaning Chemicals must clean quickly and effectively, be affordable, kill germs , remove grease & grime easily, must be non-toxic and safe on expensive surfaces.
Our industrial grade Kitchen cleaning chemicals from Agar Cleaning Systems can put your troubles to rest!
Active Break, Single Step, and Vischlor are excellent professional cleaning products developed to address the main cleaning concerns of any food related business.
Hygiene Specialists in WA since 1983
Cleans and Degreases in Seconds!
Heavy duty cleaning made easy and instant, Active Break, Single Step, and Vischlor are all excellent degreasing agents. They cut through heavy oils and greasy films of fat fast! and disinfects at the same time.
They sanitize any hard surface in seconds, without damage! Food preparation areas can be cleaned in minutes, and ready for business in no time.
Cost Effective and Affordable
Your food business can save chunks on sanitization every month. because Active Break, Single Step, and Vischlor come in concentrated form. Made to be diluted first, their use can be extended for longer periods.

Home grade cleaning supplies can end up costing businesses thousands of dollars a month, for half the cleansing – and even expose your business to unpleasant food safety risks.
Active Break is highly potent even when diluted 1:100 with water and sprayed, giving every kitchen surface a superior disinfection.
Your business can get the most out of every dollar spent on cleaning.
Active Break, Single Step, and Vischlor were specially designed with your valuable professional kitchen equipment in mind.

They are mild but provide powerful disinfection even when diluted, and is safe even on Aluminium when sufficiently diluted.

Most importantly, they do not leave toxic residues on surfaces after cleaning, and will uphold the food safety of your kitchen even further.

They are safe, and non-toxic, without leaving harsh odors!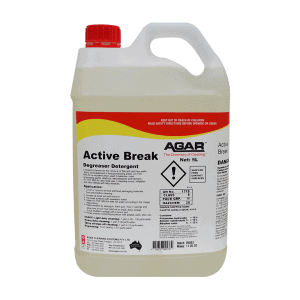 ACTIVE BREAK is a powerful, non-perfumed cleaner for the removal of fats and oils from walls, floors and equipment in food processing areas. It can be applied by the spray-and-wipe method or by mopping or hand-scrubbing.
Key Benefits
Highly-reactive alkaline cleaner for cutting through fat, grease and protein.

Convenient liquid form.

Works in hot or cold water.

Suspends smoke, fat, protein and grease films.
For Use On…
Walls, floors, food processing equipment, ovens, barbeques, hot plates, griddles, stainless steel benchtops, fan exhausts and inlets, hoods and ducting, butchers' boning rooms, abattoirs, kitchens and all food processing areas.
Not suitable for use on aluminium unless diluted to below 1 in 100 with water.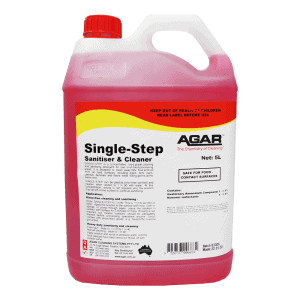 Single Step is a concentrated, food-grade cleaning and sanitising detergent for use in all kitchen and food-processing areas. It is designed to remove food products from all hard surfaces, whilst killing germs at the same time.
Key Benefits
Cleans and sanitises in one step
Effective on a wide range of bacteria
Low alkaline and safe on aluminium
No rinse when diluted to 1:90
How Does It Work?
Single Step is a concentrated food-grade cleaner and sanitiser for use in kitchens and food processing areas. When washed with Single Step, items are rendered clean and free from most common bacteria.
For Use On…
Single Step is an excellent cleaner and degreaser for general surface cleaning, sink washing of pots and pans, floor cleaning and for cleaning equipment such as filling machines, cookers, tables, cutting implements, conveyor belts and mixing pans.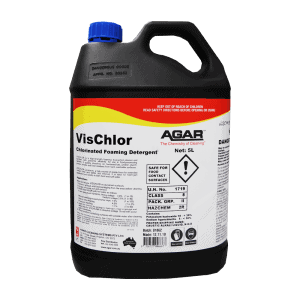 VISCHLOR is a high-strength foaming dual-action cleaner and sanitiser with powerful alkalinity for use in food-processing facilities. It quickly dissolves oil, hardened fats, protein, starch, grease, smoke and food residues from hard, washable surfaces.
VISCHLOR produces a high volume of stable foam for extended contact time and better soil removal. It is ideal for foam-gun application and works in both hard and soft water. Because it offers an effective method of killing undesirable micro-organisms (germs, bacteria, fungi, etc.), VISCHLOR is also an excellent sanitiser.
How Does It Work?
VISCHLOR contains available chlorine which kills bacteria, yeasts, mould and many viruses. It also contains caustic alkali and detergents to provide an excellent cleaning action. Removes cooking fats, vegetable oils, smoke films, carbon deposits, food spills, protein and other contamination found in food preparation areas, kitchens and abattoirs.
For Use On…
VISCHLOR is designed for use in most applications and tasks in open area cleaning of food factories. It can be used to clean all surfaces not harmed by water and chlorine including stainless steel equipment, walls, ceilings, unpolished tiled floors, baths, showers, glass and porcelain. Do not use for cleaning aluminium, copper or zinc.
Caution:
NEVER MIX VISCHLOR WITH ANY OTHER CHEMICALS, especially acids, as this may produce toxic fumes of chlorine gas. Avoid splashing VISCHLOR on clothing as it will burn holes in cotton and other fabrics. VISCHLOR is corrosive to the skin – wear protective gloves, clothing and safety glasses as shown in the SDS.
Drop us a line for more on Kitchen Cleaning Chemicals