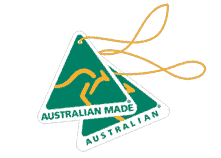 We carry a wide range of All Purpose Detergents, ph neutral floor cleaner,low foaming floor cleaner & general purpose cleaner Chemicals to handle any type of stain on any surface.

Get beautiful, sparkling results with our comprehensive range of All Purpose Detergent, surface cleaner liquids & Floor Cleaner Chemicals. With a variety of products on offer, you can be sure you get the most effective cleaner to suit any surface, soilage or application. Our Eco friendly floor cleaners are GECA Certified. Our ph neutral floor cleaner are environmentally friendly and made to Australian standards. Our low foaming floor cleaning liquids are great to be used as general purpose cleaners.  
Briskleen carries a wide range of AGAR all-purpose detergent & floor cleaners. Our range includes products that can handle any type of stain on any surface. We offer eco friendly floor cleaners which can be used on any floor surface including tiled and polished floors. A selection of our floor cleaners have exceptional grout cleaning abilities.

Our AGAR Floor Cleaner Liquid and tile cleaners are Australian made and are
Environmentally friendly and GECA (Good Environmental Choice Australia) certified.

Eucalyptus scented and green cleaning, suitable even for microfibre mops

Perfect for use with scrubbing machines to clean tiles and grout lines

Good for use as heavy duty hard surface cleaner
Hygiene Specialists in WA since 1983
ALL PURPOSE & FLOOR CLEANING PRODUCTS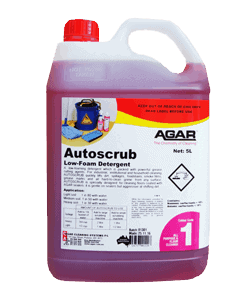 What is Autoscrub?
AUTOSCRUB is a low foaming Floor Cleaner Liquid Chemical which is packed with powerful grease cutting agents. For industrial, institutional and household cleaning, AUTOSCRUB surface cleaner liquid quickly lifts dirt, spillages, food stains, smoke films, grease marks, and all hard-to-clean grime from any surface. AUTOSCRUB is especially designed floor cleaner liquid coated with AGAR sealers.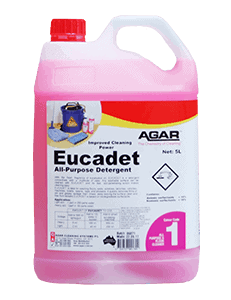 What is Eucadet?
With the fresh fragrance of eucalyptus oil, EUCADET is a detergent concentrate which is a all purpose surface cleaner liquid detergent which can be used on any washable surface for easy cleaning.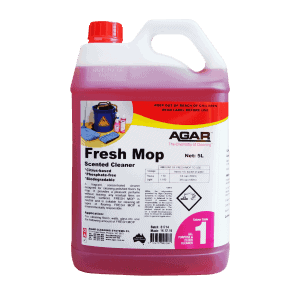 What is Fresh Mop?
Fresh Mop is a hard floor cleaner designed for high-gloss floors such as terrazzo, marble and slate. It will not streak on glossy stone floors or polyurethane-sealed timber floors.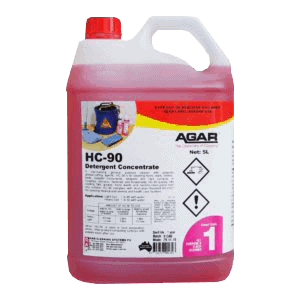 What is HC-90?
HC-90 is a low foaming floor cleaner with powerful
grease-cutting agents. It is a low-alkaline detergent for use in
hospitals, building maintenance, food-preparation areas and
ultrasonic cleaning.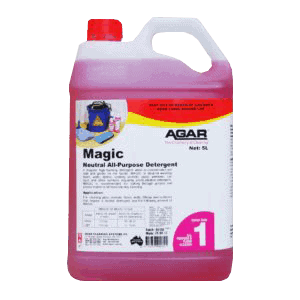 What is Magic?
MAGIC will remove food, grease and protein matter, cooking fats, smoke films, smears on glass, road dirt on cars and trucks.
MAGIC will clean dishes, glass, utensils, paintwork, car duco, terrazzo, marble, stainless steel, walls and all surfaces requiring a non-alkaline detergent.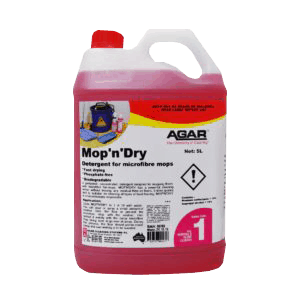 What is Mop'N'Dry?
Mop'N'Dry is a powerful and fasting drying detergent specially formulated to be used together with microfibre mops and spray and glide mops. It breaks down greasy and stubborn stains to quickly dry without leaving any residual films on floors, making it excellent for spot cleaning high traffic floors.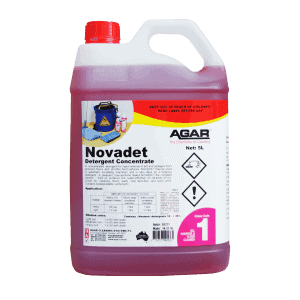 What is Novadet?
NOVADET will remove all dirt and spillages including foodstuffs, drinks and cooking oils and general traffic dirt from floors and walls. NOVADET will clean waxed and polished floors, walls, glass, terrazzo, marble, slate and other surfaces needing a low-alkaline cleaner. Use by mop, sponge or autoscrubber. NOVADET is an excellent scrub-back detergent for polished floors when used at stronger concentrations.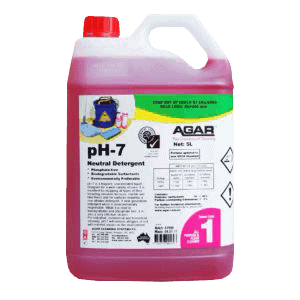 ph neutral floor cleaner?
PH-7 Eco friendly floor cleaner is a neutral detergent that has a multitude of applications for cleaning hard surfaces. pH-7 has been specially formulated to be environmentally preferable.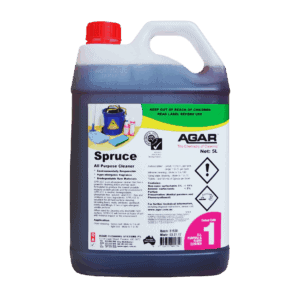 What is Spruce?
Spruce is an all-purpose cleaner that rapidly penetrates and removes light to medium soil loads from all washable hard surfaces. It is a water-based detergent that has been formulated to produce the lowest possible impacts on both people and the environment, whilst facilitating highly effective and productive cleaning.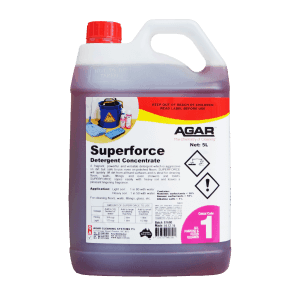 What is Superforce?
Concentrated heavy duty cleaner and deodorant, – safe on all washable surfaces.
Will Remove
All soils including dirt, food spills, greasy, oily films, fat, carbon and smoke deposits, ink spills, bathroom buildups.
Will Clean
All surfaces not harmed by water including all floors, polished vinyl, tiles, walls, car tyres, upholstery, venetian blinds, glass, porcelain, kitchen ducting and stainless steel.
Drop us a line to find out more about our
All Purpose Floor Cleaning Range