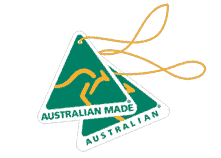 BEAT FLU SEASON WITH COUNTERFLU
With uncertainty still surrounding the COVID-19 pandemic and the flu season nearing, be prepared this year. Keep your workers and your workplace clean and disinfected by using CounterFlu tga approved.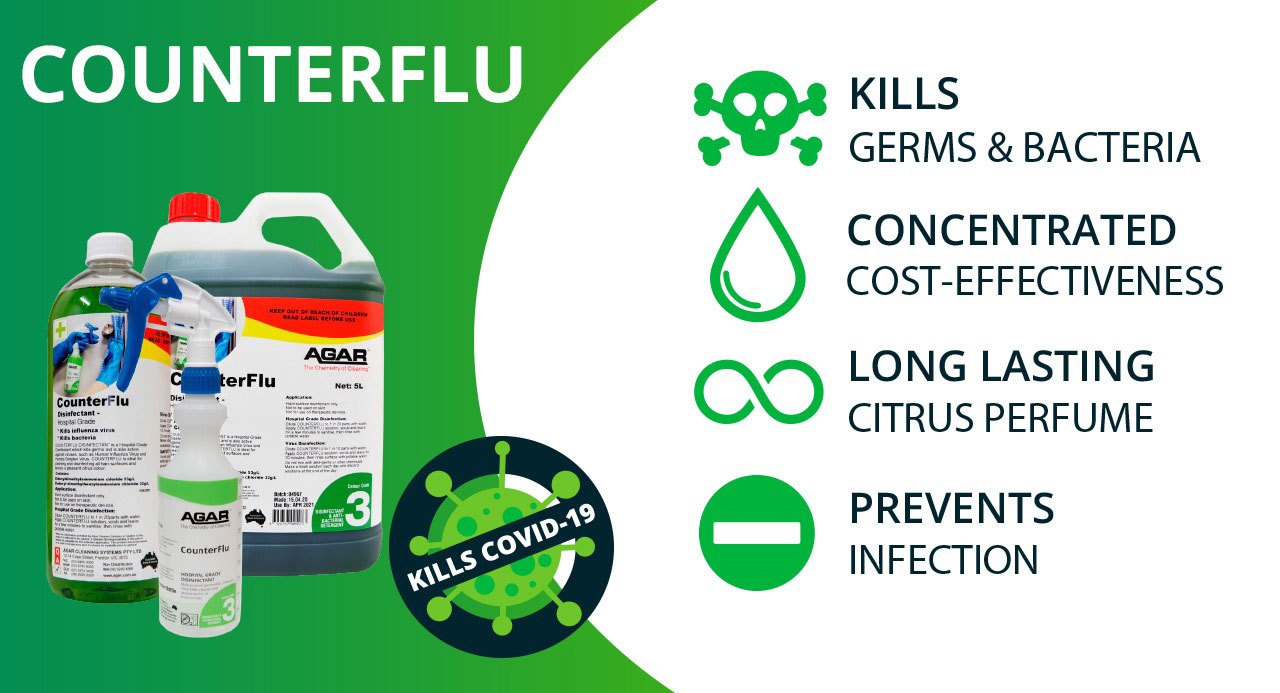 WHAT IS COUNTERFLU?
CounterFlu tga approved is a HOSPITAL-GRADE DISINFECTANT with a powerful cleaning action that kills viruses including COVID-19 virus, flu virus, germs, bacteria, fungi and moulds. It leaves any hard surface disinfected, clean and perfumed with a lingering citrus fragrance.
KILLS COVID-19 VIRUS
Microbiologically tested and proven effective against corona viruses (COVID-19 virus), Human Influenza Virus & Herpes Simplex Virus.
KILLS GERMS & BACTERIA
Microbiologically tested and proven effective against germs, bacteria, moulds, and fungi.
CONCENTRATED FOR COST-EFFECTIVENESS
CounterFlu dilutes to 1:10 or 1:20 to maximise cost-effectiveness. One 5L bottle can produce up to 100L of hospital-grade solution!
LONG LASTING CITRUS PERFUME
Long lasting citrus perfume that leaves the area with a delightful, citrus fragrance.
PREVENTS INFECTION
Helps limit workplace absenteeism by disinfecting any hard surfaces such as common touch-points and high risk areas
Other Key facts about CounterFlu
CounterFlu is a Hospital Grade Disinfectant which kills germs and viruses such as Human Influenza Virus, Herpes Simplex Virus and coronaviruses including SARS-CoV-2 (COVID-19 virus). It can be used to clean and disinfectant all hard surfaces. It is designed to be diluted with water to minimise cost and maximise return per litre. Just 5L produces as many as 100x of our 500ml colour-coded spray bottles (D03C) at a virucidal ratio of 1:10. That's a tenfold decrease in price per litre.
Therapeutic Goods Administration (TGA), SDS, PDS Certificate Links
Did you know you can get even more bang for your buck with CounterFlu?


CounterFlu does more than just disinfect – it's a powerful cleaner, too! Formulated with premium surfactants, CounterFlu attacks and disperses soilage matter leaving your surfaces clean and disinfected in minutes.

No need to throw our bottles away every time they've been emptied. Our specially screen printed 500ml bottles provide exact measurements for refilling and reusing so you can minimise your waste and do your part for the environment, too!

Virtually all of our products including CounterFlu come in recyclable containers that are cleaned and reused if returned to Agar Cleaning Systems, significantly reducing our plastic wastage.

Like many of our products, CounterFlu is designed as a concentrate to reduce unnecessary shipping of water, helping both the environment and your wallet in the process.
Drop us a line to find out more about our
CounterFlu