Briskleen is your No 01 solution for all your food packaging needs. From high quality take away containers, Disposable cups, Plastic cutlery, Cling wrap/foil and baking papers, Cartons of napkins, Coloured napkins, Biodegradable cups/containers to Paper straws bulk purchasing for all your commercial packaging for food products is now easier than ever with Briskleen.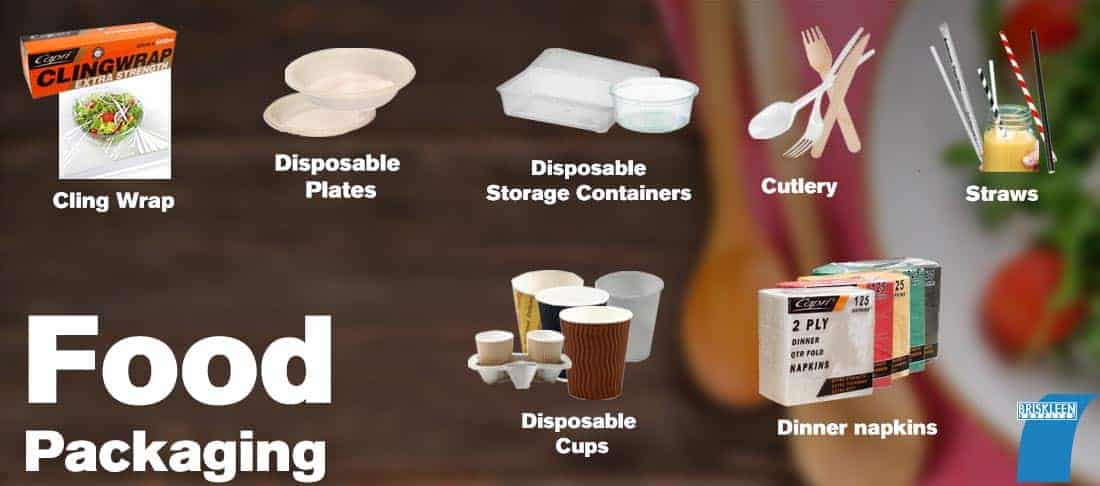 Some of our Food Packing Products
Hygiene Specialists in WA since 1983
Looking for more products? We got you covered.
Click on the following to open more products.
Explore an extensive selection of recyclable, compostable PLA made from corn starch and biodegradable plastic with a disposable environment-friendly packaging collection. clingwrap grips tight and seals easily around a variety of surfaces to help keep your food fresher, longer also has outstanding clarity and clings performance which makes it the professionals' choice throughout Australia.
Our Paper straws are made out of sustainably sourced enviro choice 3 Plys will only last for a drink, not a lifetime. As an environment-friendly supplier, we are always trying to give our customers the most nature-friendly solution out there. Our paper straw range is best suited for low-acidity drinks, clearly the best choice for vendors near waterways.
As your verified disposable food packaging supplier in Perth, we have curated a wide selection of High-Quality 2ply Color napkins, Plastic containers, plates, bags, cups, bowls, and cutlery with Competitive Prices. We offer a quality range of brown paper bags, greaseproof bags, hot dog bags for all your commercial needs.
We also offer a wide range of cool wall coffee cups, clear cups, disposable paper cups, coffee cups, lids, cup trays for your convenience.  Our paper drinking cups are exceptional print quality not only can be used coffee shops but also can be used for any commercial outdoor/ indoor events, companies or even for small picnics and gatherings.
Our disposable storage containers are reusable, multi-use high-quality containers engineered for the bulk handling, transport, and storage of liquids, semi-solids, pastes, or solids. From round containers, chip boxes, hot chip cups, all kinds of lids, pizza boxes, rectangular food containers, round containers are available for bulk purchasing for all your container needs.
We offer a variety of foodservice supplies including plastic plates and bowls. Best disposable ware in bulk with multiple choices high-quality plates that are disposable after use. Perfect for any party, get-together, or daily use.
As your trusted food preparation supplier in Perth, we also offer a variety of bouffant caps, Disposable blue aprons specially designed to protect clothing and skin against spills. anti-bacterial making them ideal for use in healthcare environments and upholding Health and Hygiene standards. also, we offer a range of shoe covers to make your food preparation processes easier.
Drop us a line to find out more about our Food Packaging Products