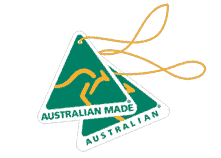 Sun Protection: An Essential Component of Skin Care and Long Term Health
The continuing depletion of the Ozone layer around Earth exposes us to harsh UV radiation without guard. With more consequences than just sunburn, exposing bare skin to the Sun takes a hefty toll on an individual's long term health.
Specific precautions must be taken to stay safe and avoid serious illness in the long run. Here we will explore essential practices that are proficiently "sun smart".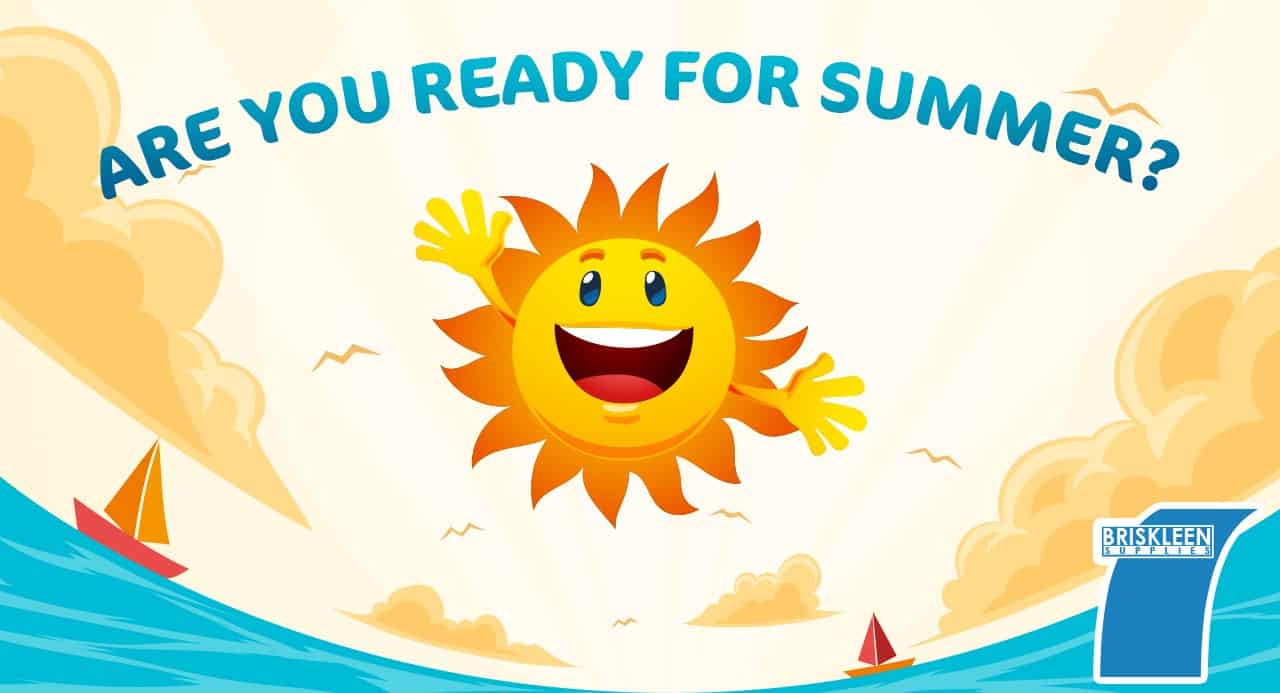 Some of our Summer Protection Products

The best Sunscreen, according to medical advice, must have the following qualities and a seal of approval by an accredited regulatory body.
Broad spectrum protection
A Sun Protection Factor (SPF) of at least 30 - preferably more.
Water Resistant
Broad Spectrum Protection
A functional sunscreen must provide Broad Spectrum Protection from both UVA and UVB radiation, keeping your skin safe not only from sunburn, but skin cancer and premature aging caused by the sun (Photoaging). UVA rays are responsible for photoaging, while UVB rays cause sunburn.
Furthermore, Regardless of popular perceptions about skin tone and its correlation to the degree of safety in the sun, sun protection for all shades of skin is vital. Studies in Photoimmunology have examined the effects of UV induced immunosuppression; meaning exposure to harmful UV rays can lead to a weakened immune system overall. UVB rays in particular causes the deterioration of DNA, leading to faulty immune responses.
Statistics show that Australia has one of the highest rates of Melanoma in the world, so be sure to choose a sunscreen or sunblock that is functional in extreme conditions where necessary.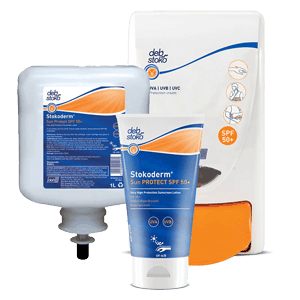 Deb Stokoderm Sun Protect sold by Briskleen is a Broad Spectrum, SPF 50+ sunscreen and is 4 Hours Water Resistant
Sun Protection Factor (SPF) of at least 30
SPF measures the ability of a sunscreen to block UVB rays.
SPF 15 Blocks 93% of all UVB rays

SPF 30 Blocks 97% of all UVB rays

SPF 50 Blocks 98% of all UVB rays
While the level of blocking UVB rays reduces proportionate to the rise in SPF, a few degrees can make a great difference in safety. SPF 100 cuts off nearly 99% of all UVB rays; Greater SPF means greater sun protection.
Always choose an accredited photostable sunscreen which contains ingredients that do not deteriorate upon being exposed to the sun. Zinc Oxide and Titanium Oxide are both photostable compounds. Avobenzone on its own however, is photo unstable.
Did you know Stokoderm Sun Protect 50+ is a UV Skin Protection Lotion for Professional Use.


Ideal for Outdoor workers exposed to UVA & UVB sun rays.
Learn more about features & benefits of Stokoderm® Sun Protect 50+
High performance

Sun Protection Factor of 50+ provides very high protection against the sun's UV-A and UV-B rays

Water resistant formula

Withstands immersion in water.

Moisturises

Contains a high level of moisturisers to condition the skin.

Pleasant to Use

Contains vitamin E to soothe and condition the skin.

Perfume-free

No added perfume. Ideal for people who are sensitive to perfumes and prefer products which do
not have perfume added.

Neutral pH

Ensures compatibility with the skin and reduces the risk of any possible irritation.

Silicone-free

The product will have no adverse effect if in contact with surfaces prior to the application of paint or
surface coatings.

Versatile

Can be used under clothing to minimise the risk of penetration of the sun's rays through the fabric
onto the skin.
Download Product Information
Water resistance is an important feature that ensures that sunscreen does not lose its integrity when subject to moisture or sweat.
A sunscreen can be highly water resistant but never water proof (and cannot claim to be), and must indicate how long it is capable of staying water resistant.
For this reason, it is best to choose a sunscreen lotion instead of a stick or spray for complete coverage. Applying 2 coats on the first application and reapplying every two hours thereafter is recommended.
Skin Care and Comfort with Sunscreen
Finally, pick a sunscreen that nourishes your skin simultaneously and is comfortable to wear. It is important that sunscreen application does not cause discomfort. Choosing a sunscreen containing Aloe Vera and Vitamin E to hydrate and nourish skin will be pleasant while providing ample UV protection.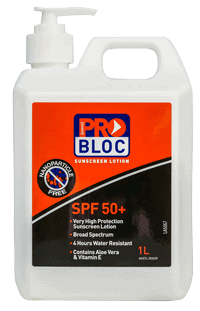 Key Features of Pro Bloc Sunscreen sold by Briskleen;
Broad Spectrum

SPF 50+ sunscreen 

4 Hours Water Resistant

Tailored to protect in extreme conditions.
Other "Sun Smart" measures
Wear clothing made of thick fabric to block as much sun as possible. Whenever spending long periods outdoors, use a head covering that provides plenty of shade over your face. Using UV cut sunglasses whenever eyes are at risk of direct exposure to the sun, is advised. Always take extra precaution near reflective surfaces such as snow or metal, to reduce risk of indirect UV exposure.
Be open to integrating these measures into you and your family's lifestyle, to stay safe and healthy in the long run.
Fly & Bug Spray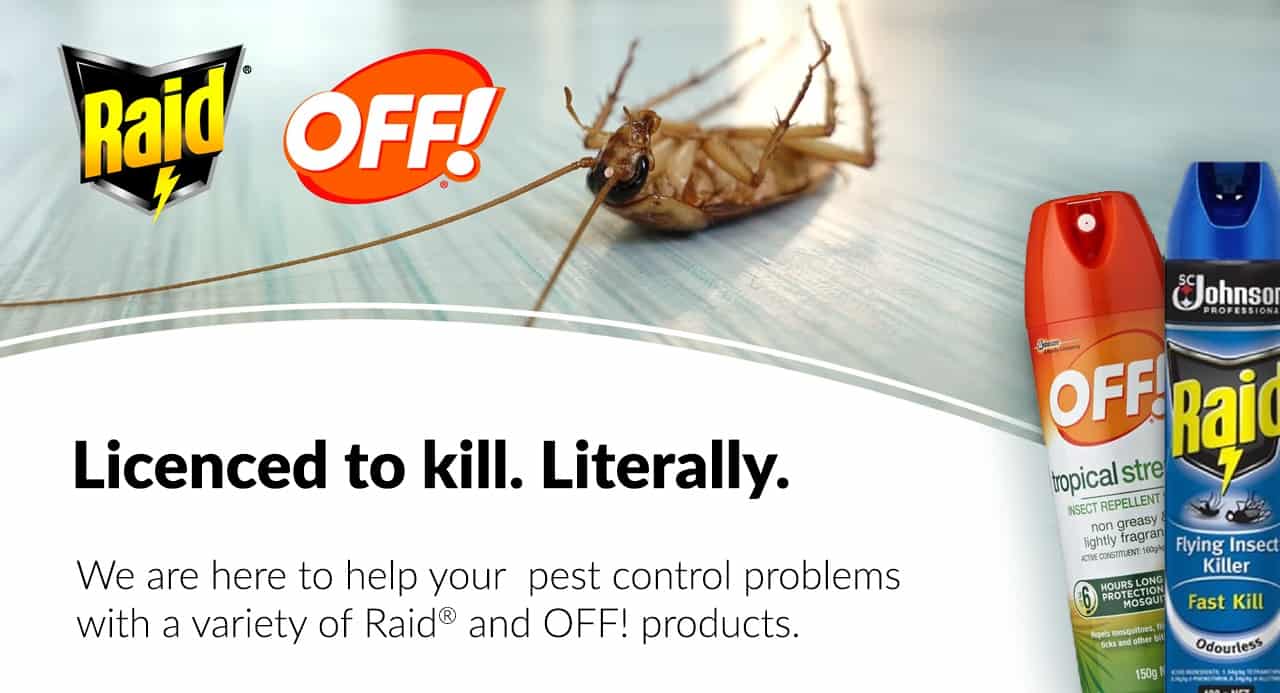 Raid is the brand name of a line of Insect Killers produced by S. C. Johnson. Currently Raid Ant & Roach Killer contains pyrethroids, imiprothrin, and cypermethrin; other products contain tetramethrin, prallethrin and permethrin as active ingredients.
Different aerosol sprays quickly kill a wide variety of bugs in the air, on surfaces or in infested areas around your home. They're easy to use, kill bugs quickly and help turn your home into a pest-free environment
The first step to beating a bug is to know which species you're dealing with. Different types of bugs require different treatment plans so you'll need to properly identify your bug before you can learn how to fight them.
THE IMPORTANCE OF MAINTAINING SUN CARE ROUTINE
It is all about discovering the right sunscreen products for you, your skin, and your routine. We take sun protection seriously. Briskleen Pro Bloc Sunscreen contains Vitamin E & Aloe Vera to moisturize & condition your skin. It is also non-greasy, suitable for all skin types & PABA free. Briskleen Pro Bloc Sunscreen is also free of potentially damaging Nanoparticles. The pump pack 1L bottle dispenser comes with an easy carrying handle that has specially curated for your day to day sun protection.
Briskleen Pro Bloc Sunscreen is a product made in Australia for extreme conditions. It also complies with AS/NZS 2604:2012 Sunscreen Products - Evaluation & Classification. Briskleen ProBloc filters up to 98% of UVB rays.
Keep in mind that while crucial, Sunscreen alone is not enough. Make sure to wear sun-safe clothing and always include sun protection shades, caps, and hats to your day to day lifestyle.
Drop us a line to find out more about
how to be Sun Smart