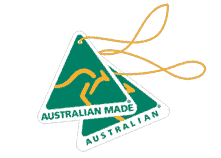 Suitable for bathrooms, kitchens, showers, toilets, basins, floors, walls, benches & fittings
We carry a large range commercial grade disinfectant and antibacterial detergent. We are the local distributors for AGAR chemicals in West Australia and the chemicals are used nationwide. Our disinfectant and anti-bacterial detergent, TANGO is Hospital Grade and comes in a concentrated form, perfect for anyone looking to buy large quantities in bulk for whole sale prices.
AGAR disinfectant and antibacterial detergent is a multipurpose germ killer and cleaner. CHLORADET we carry is also TGA approved. It's an highly effective Hospital grade Disinfectant. More details about this sanitiser ia also below. Available in fragrances ranging from musk, lemon, citrus, fruity and floral notes, resulting in a lingering pleasant fragrance.  Can be used on any hard surface including, but not limited to;
Bathrooms

Kitchens

Showers

Toilet fittings such as basins, floors, walls and benches.
We consider the impact of chemical usage on the environment is of paramount importance and we take the view that all products used according to instructions should present minimum possible risk to the environment. Agar cleaning systems' commitment to using the safest raw materials continues to yield results in reduced environmental impact, as does our avoidance of any toxic substance which are known to be life threatening or permanently damaging to the environment. All products conform to statutory environmental requirements and our aqueous formulations are biodegradable.
Some of our chemicals carry the 'Environmental Choice Australia' mark and the newer products such as the TANGO concentrated disinfectant has
Biodegradable surfactants and is phosphate free.

Low VOC content

Hypo-allergenic, minimising the possibility of allergic reactions in sensitive individuals

Readily biodegradable surfactants

Comes in recyclable containers.
All our chemicals are designed to achieve high productivity in combination with the latest cleaning equipment and methods, with minimum environmental impact. Our continually evolving product range continues to expand, develop and refine these qualities.
Hygiene Specialists in WA since 1983
Disinfectant & Antibacterial Detergents Products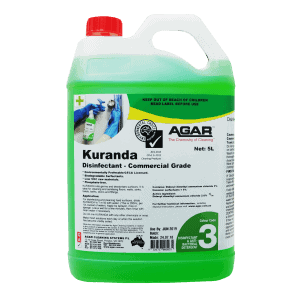 What is Kuranda?
KURANDA is a specially formulated environmentally preferable commercial-grade disinfectant that is boosted with a detergent for a powerful cleaning action. It leaves surfaces clean, disinfected and perfumed with a fresh floral fragrance.
Environmental Care
KURANDA is the latest in environmentally preferable cleaning chemistry, formulated to provide excellent performance as a disinfectant cleaner for hard surfaces with minimum impact on the environment.
Naturally, KURANDA contains biodegradable ingredients, is phosphate-free, uses renewable plant-derived surfactants, and conforms with all statutory environmental requirements.
Using the latest 'environmentally preferable' criteria KURANDA has been formulated with a low Volatile Organic Content. This means it does NOT contribute to poor indoor air quality, ozone depletion or photochemical smog.
The technically minded will appreciate that KURANDA does NOT contain any alkyl phenol ethoxylates, phthalates, heavy metals, ozone depleting substances, ammonia, amines, butyl solvents, ethylene glycol ether solvents, chlorine, or hydrocarbon solvents.
Licensed to Good Environmental Choice Australia (GECA).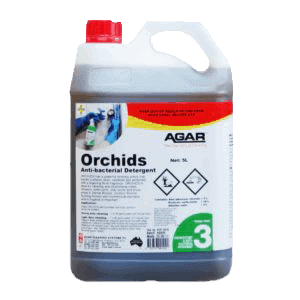 What is Orchids?
Orchids is an anti-bacterial detergent with a pleasant musk perfume which kills germs and re-odourises throughout the whole day.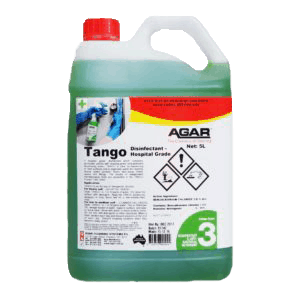 What is Tango?
TANGO is a fresh scented Hospital Grade Disinfectant with a powerful cleaning action that leaves surfaces disinfected, clean and perfumed with a lingering floral-fruit fragrance. TANGO is ideal for cleaning and disinfecting floors, walls, sinks, baths, toilets, tiled areas and fittings.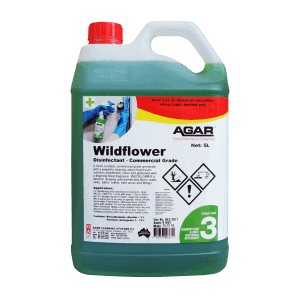 What is Wildflower?
WILDFLOWER is a commercial-grade disinfectant that kills bacteria and leaves surfaces clean and perfumed with a sophisticated floral fragrance.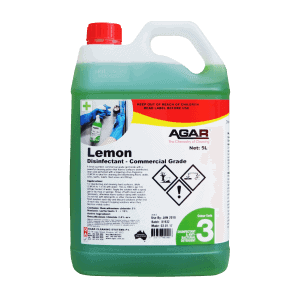 What is Lemon?
LEMON is ideal for cleaning floors, walls, sinks, baths, toilets, tiled areas and fittings. LEMON may also be used as an air-freshener.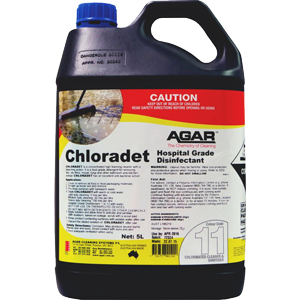 What is Chloradet?
CHLORADET is a concentrated, high-foaming cleaner with a bleaching action. Because it offers a very effective method of killing undesirable micro organisms (germs, bacteria, fungi, etc.), CHLORADET is an excellent sanitiser.
Drop us a line to find out more about our
Disinfectant & Antibacterial Detergents