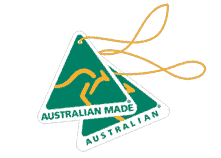 Simply spray & wipe our fast drying glass cleaner, window cleaner chemicals for super clean, streak free windows and stainless steel fittings

We offer a range of fast acting, flash drying, concentrated glass and window cleaning chemicals for a perfect, streak free of any residue. Suitable for Glass, Stainless steel, Chrome, Enamel and Laminex TM. Simply spray and wipe our fast drying glass and window cleaning chemicals which are ideal for household as well as commercial or hospital use.

We deliver window cleaning chemicals and detergent in bulk and retail quantities in Western Australia. We are also the local dealer for AGAR window cleaning products.
AGAR products such as BELLEVUE glass and window cleaner carry a GECA certification (Good Environmental Choice Australia) for environmentally friendly cleaning products. This glass cleaner is biodegradable, has Low VOC content, no toxic, carcinogenic or bio accumulative ingredients. No endocrine disrupters, mutagens or teratogens and minimises the possibility of allergic reactions occurring in sensitive individuals. They also come in recyclable containers.
Hygiene Specialists in WA since 1983
Disinfectant & Antibacterial Detergents Products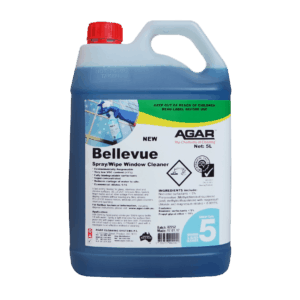 What is Bellevue?
BELLEVUE is a glass cleaner that rapidly penetrates and removes light to medium soil loads from windows and mirrors. It is a waterbased detergent that has been formulated to produce the lowest possible impacts on both people and the environment, whilst facilitating highly effective and productive cleaning
Environmental Care
BELLEVUE has been made from ingredients that have been chosen to give the following properties:
Highly biodegradable

Phosphate-free

Low alkaline pH

Non-flammable
BELLEVUE contains: Surfactants that are derived from naturally renewable, regrowable resources (such as coconut oil, starch and sugar). NO VOC's (volatile organic compounds) that can cause poor air quality, air pollution and potential allergic reactions in some individuals. NO perfumes or alcohols NO toxic, harmful or ecologically-suspect ingredients: no ammonia, glycol ethers, nonyl phenol ethoxylates, caustics, corrosives, chlorine, heavy-metal sequestering agents or phthalates. BELLEVUE containers will be cleaned and reused if returned to Agar Cleaning Systems Pty Ltd., significantly reducing plastic usage and waste. They can also be recycled.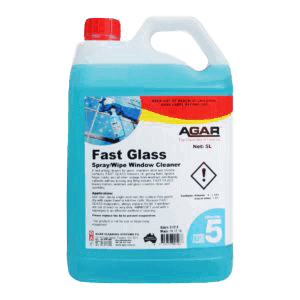 What is Fast Glass?
A fast-acting cleaner for glass, stainless steel and chrome surfaces, FAST GLASS removes soilage from windows
and display cabinets without leaving streaks.
Key Benefits
FAST GLASS attacks dirt fast
FAST GLASS evaporates quickly, so less wiping is required
FAST GLASS is non-streaking
FAST GLASS is not classified as Dangerous Goods
Sparkling glass and mirrors result when this product is used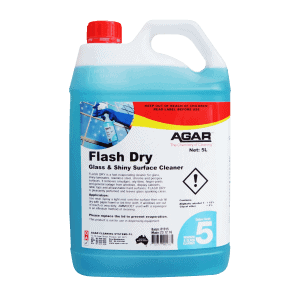 What is Flash Dry?
Boost your cleaning power with Flash Dry. It is a high-performance glass and window cleaner that evaporates ultra-fast. It effectively removed grease and grime from shiny surfaces, kills germs and leaving no streaks, smears or residues. It's designed for spray-and-wipe cleaning of glass, chrome and all shiny surfaces.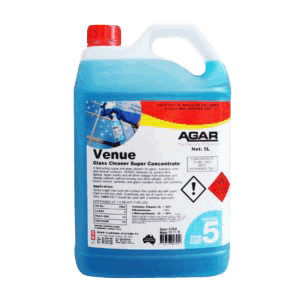 What is Venue?
VENUE is a fast-acting cleaner for glass, stainless steel and chrome surfaces. It removes oil, greasy films, lipstick, finger marks and all other soilage from windows and display cabinets without leaving any filmy streaks. VENUE leaves glass windows clean sparkling. VENUE is one of the Agar range of cleaning concentrates – fully effective, economical chemicals for safe, controlled dispensing with a colour coded system.
Drop us a line to find out more about our
Glass and Window Cleaners